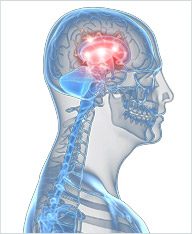 The non-surgical treatment and rehabilitation of patients suffering from brain injury and neurological problems is a primary treatment area for physical medicine doctors. Brain injury and illness encompass a wide spectrum of dysfunction, from sports-related concussion and traumatic brain injury caused by an automobile accident, to stroke and diseases like multiple sclerosis and cerebral palsy.
Traumatic Brain Injury/Concussions
Physical Medicine and Rehabilitation physicians are involved in about two million new traumatic brain injury (TBI) cases each year. Males aged 15–24 have the highest incidence of TBI, the vast majority being concussions and mild brain injury.
Since no two patients have the same set of impairments, the physiatrist has to address each patient's specific issues, which can include cognitive, behavioral, and psychosocial consequences of the injury. Studies and experience show that early and ongoing involvement by a physiatrist decreases short-term complications and optimizes long-term functional outcome and quality of life.
Concussion
A concussion is a type of traumatic brain injury—or TBI—caused by a bump, blow, or jolt to the head or by a hit to the body that causes the head and brain to move rapidly back and forth. This sudden movement can cause the brain to bounce around or twist in the skull, stretching and damaging the brain cells and creating chemical changes in the brain (www.cdc.gov). APM&R has developed a specialized Concussion Clinic to meet the demand and needs of our community, as awareness and the prevalence of sport, fall, or auto induced concussions continues to rise. The APM&R Concussion Clinic is modeled after the Mayo Clinic Sports Concussion Program with literature and protocols also adopted from the Centers for Disease Control & Prevention.
Stroke
Stroke is the third most common cause of death in the United States and is the most frequent cause of severe disability. There are 500,000 new stroke cases each year, even with the incidence declining over the past 20-30 years due to better control of risk factors like hypertension, high cholesterol, less smoking, and more exercise.
Working as part of a team, APM&R physicians assist the patient in improving functional independence including personal care, mobility, and community skills. New equipment and new techniques are helping to achieve this.
Stroke Stats
There are 4.4 million stroke survivors alive today—up to half of them are totally or partially dependent on others to help them with daily activities.
More than 60% of those who have experienced stroke, serious injury, or a disabling disease have never received rehabilitation.
Only 40% of stroke patients reach the hospital within 24 hours—too late for some of today's most effective stroke treatments.
Rehabilitation Is Our Specialty
As rehabilitation specialists, one of our primary goals is for patients to recover function in order to return back to work or regain independence after brain injury or stroke. Contact Associates in Physical Medicine & Rehabilitation today at 734-712-0050 to find out how we can assist you in your recovery from brain injury or illness.